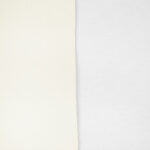 Color Accuracy
Please note that whilst every effort has been made to ensure colour accuracy on our website, unfortunately colours are always shown differently across various monitors and screens. Samples are strongly recommended prior to purchasing any amount of fabric.
Bonded Blackout Curtain Lining
As low as
£

8.50/metre†
† All prices are shown inclusive of UK VAT at 20%. If VAT is not applicable to your order, then the price at checkout will be adjusted.
Price shown represents the best obtainable after bulk discounts, your exact price may vary. See quantity discount table.
0m +
10m +
20m +
30m +

£

10.00

£

9.50

£

9.00

£

8.50
Prices for full rolls by enquiry only.
Our bonded curtain lining combines fleece-type interlining with 3-pass blackout lining to remove the need to pin out layers out separately.
Available in White and Ivory.
We aim to dispatch within 2 working days, with delivery options within 1 working day thereafter for order to mainland UK. Deliveries to some addresses may take longer.
Fabric Online now operates a live inventory system, with every last metre on every last roll of fabric accounted for. This means that any stock counts listed on our website are extremely accurate.
Our friendly support team are on hand to help with any questions or concerns that you might have, from 08:15 - 17:00 Monday - Thursday, and from 08:15 - 14:45 Friday.